Have you ever heard of Micro Bullies? The American Bully breed is a newer designer dog, a new breed. You will also hear that many people call them Exotic Bully. But where do these Bullies come from? Because this is such a rare breed, there is a lot of confusion about what 2 breeds make a Micro Bully.
Micro Bully or the Exotic Bully – What to know
Different sizes
Standard – Which has a muscular body and is between 17 and 20 inches tall
Pocket size – Between 14 and 17 inches tall
XL Bully – Males are 20 to 23 inches tall, and females are between 19 and 22 inches tall
Classic – The same size as the standard, but less muscular
How small dogs are bred
What 2 Breeds Make A Micro Bully?
Mixing with other breeds
Micro Bully vs Pocket Bully
The coat of the Exotic Bully is short and soft, without an undercoat.
They have a very smooth coat that you will want to pet all day long. So, these dogs don't belong to breeds that have a double coat. Because they have short coats, they are fairly easy to take care of.
Different colors of coats
red
blue
fawn
black
black and tan
blue and tan
brown
buckskin
white and seal
All the beautiful coat colors of Exotic Bullies
Tri-Colored Exotic Bully
Blue Exotic Bully
eumelanin, which is black
pheomelanin, which is red
Merle Exotic Bully
Grooming of Micro Bully
But that's not where the grooming ends. You also have to trim their nails whenever they get too long.
Clean their ears with a cleaning solution and some cotton balls whenever you give them a bath, and last but not least brush their teeth. Keeping up with their oral hygiene will prevent all types of dog dental problems.
Bathing
The water has to be comfortable
Micro Bully Temperament – Perfect for families, but…
Do Micro Bullies have health issues?
Congenital Heart Disease: This includes patent ductus arteriosus, pulmonic stenosis, aortic stenosis, persistent right aortic arch, and ventricular septal defect.
Hip Dysplasia: The most common health problem among dogs in general. It's an abnormal formation of the hip socket that, in its more severe form, can eventually cause lameness and arthritis of the joints.
Eye Issues: Like Cherry Eye which affects a dog's third eyelid. You can only treat it with surgery. Besides this, they can suffer from entropion, where one part of their eyelid rolls inwards, then dry eye, and lastly irritating ulcers on the cornea.
Skin Diseases: The most common skin issues these dogs suffer from are Eczema and Seborrhea. Your vet can treat them symptomatically. Bullies can also suffer from hotspots, or irritation of certain skin areas which can appear due to over-grooming, parasites, or allergies.
Other health issues are:
Joint problems: Almost all dog breeds have joint problems at one point in their lives. It's inevitable. Usually, this health condition will start when your dog gets older. Usually smaller dogs have fewer joint problems, and a rule of thumb is that the bigger the dog, the bigger the chances they will have joint problems when they get old.
Brachycephalic dog breed: As a Brachycephalic dog breed they struggle with the characteristic health problems associated with the shortened nose and the rounded skull shape. These include breathing problems, eye problems, and labor difficulties, among others. The more pronounced the brachycephaly, i.e. the shorter the nose and the rounder the shape of the skull, the more severe the health restrictions are usually.
Back pain and back problems: Back pain is very common in dogs! You'd be surprised to know how many dogs experience back pain daily. But, back pain can sadly be caused by several conditions like weight gain, injury, anatomical abnormalities, degenerative conditions, arthritis, infection, or even cancer. Of course, there is a breed like a Dachshund that is more likely to develop back pain, but the Micro Bully is no stranger to back pain either.
How long does a Micro Bully live?
As you can tell by everything that we have said above, the Micro Bully is renowned for being a healthy and sturdy dog.
Most of them will live long and happy lives with the average Exotic Bully's lifespan being around 11-13 years.
However, this only applies to puppies that were bred by reputable breeders. Micro Bullies bred by puppy mills or backyard breeders haven't been checked for their most common health issues. That's why so many of them end up sick or even completely deformed. We can't stress how important it is to do research on a breeder before buying a puppy. That, in addition to regular vet visits, is the single most important thing you can do to make sure your dog lives as long as possible.
Keeping the Exotic Bully healthy
Nutrition for Micro Bully
grain-free (Gluten-free)
no artificial coloring
no artificial flavorings
without sugar
Exercise for Micro Bully
buy your dog toys for mental stimulation
hide their treats and let your dog find them
build obstacle courses
practice new tricks with them
change up your walking routine
expose them to new scenery and smells
Vet checkups and preventative medicine
Expensive Dogs – Micro Bully Cost
Buying from a reputable breeder
Venom
Cost of dogs – American Bully dogs price
The Micro Bully Registries
The International Bully Register (IBR)
The US Bully Registry (USBR)
American Bulldog
American Bully
English Bulldog
Exotic
French Bulldog
Shorty Bull
Standard pocket XL Extreme
American Pit Bull Terrier
Accept all breeds
International Bully Coalition (IBC)
Exotic Bully varieties
Karate Kid
Micro Exotic Bully (which we talked about in this article)
Clean Exotic Bullies
Karate Kid
Clean Exotic Bully
Some of the most desired traits of a Clean Exotic Bully Puppies:
13 inches tall or under
muzzle measures 2 inches or less
small and compact but muscular build
height and length are almost the same
underbite and clean bite are both acceptable
cheek muscles are very pronounced
Micro Bully – Conclusion
Fun fact: The Micro Bully is also called the nanny dog because they are popular among kids due to their size and adorable nature. But, despite that, you shouldn´t let any dog alone with your kid, no matter how calm they seem. Accidents can always happen and even miniature breeds could unintentionally hurt your kid.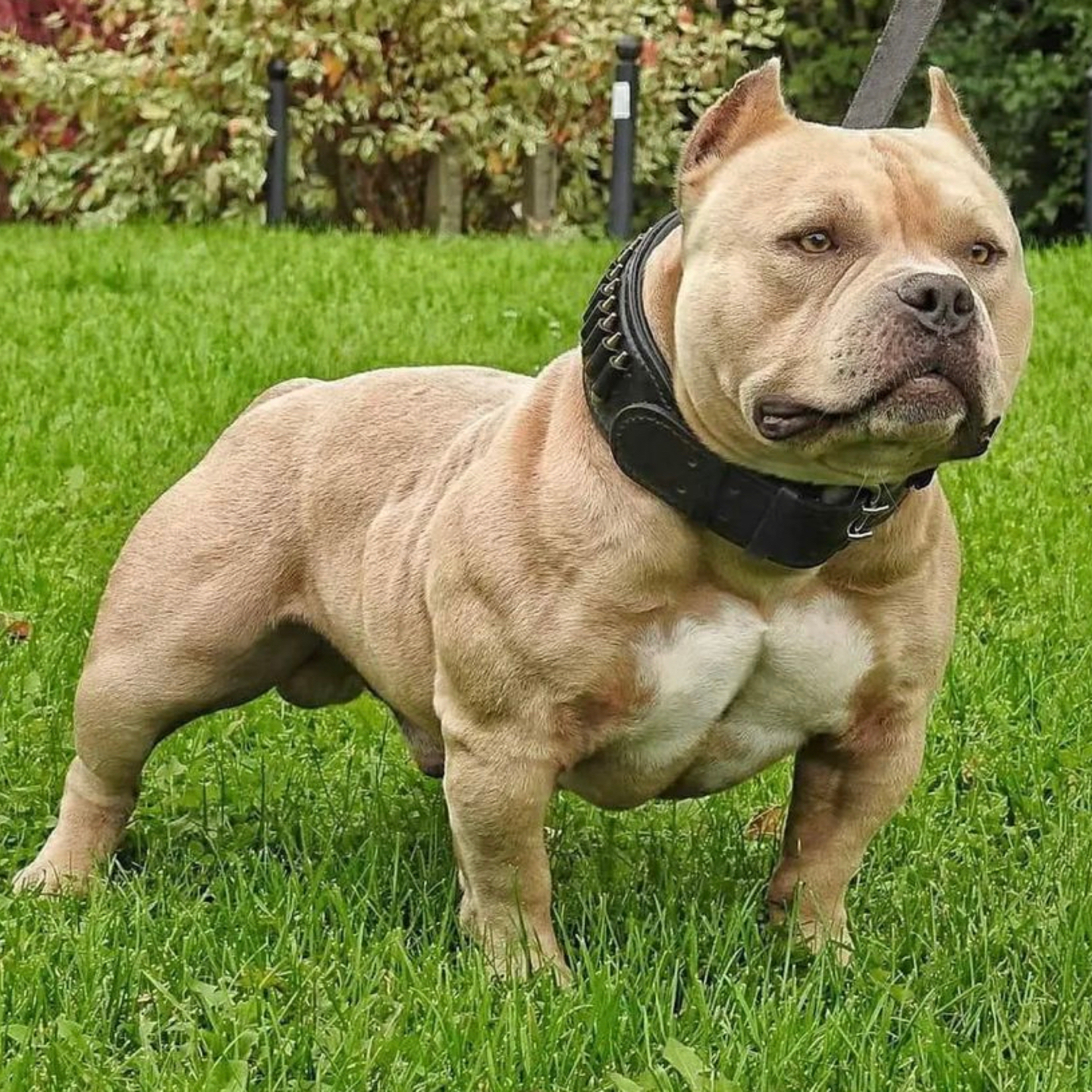 Bad Reputation
Micro Bully FAQ
What makes a Micro Exotic Bully?
This is a true mixed breed. It takes a lot of different bully breeds to create a Micro Exotic Bully. The American Bully, Olde English Bulldogge, French Bulldog, and English Bulldog are just a few of the Bully breeds that are represented in Exotic Bullies.
What's a Nano Bully?
The Nano Bully and Micro Bully are pretty much the same things. There isn't much of a distinction between them. But if breeders advertise their Miniature Bullies as Nano Bullies and claim that they are even smaller, take it as a potential red flag. He either isn't even educated about what the breed standards are, or he is taking part in some unethical practices to make the dogs even smaller.
Can Micro Bullies swim?
Yes, just like most dog breeds, Micro Bullies can swim. Although they are capable of swimming, they might not be as skilled as Labrador Retrievers and Irish Water Spaniels at it. But if you're prepared to put in the work, you can still teach your Bully to swim.
How much is a Teacup Bully?
Teacup Bully is just another way that people call the Micro Bully. It's not easy to say how much is a Micro Bully worth. This will vary from breeder to breeder, and it also depends on the area you live in. However, most of them are expensive dogs and you will have to pay at least a couple thousand of dollars.

Read also:
A Guide to Determine the Compatibility of a Second Dog for Your Bully