Is your dog a bit bougie? Sometimes a little prince or princess and wants only the best and shiniest accessories? Than we have a trend alert for you and your pup — Pearl dog collar! The new and fun accessory that will let everyone known that your dog only wants the finer things in life.
But all jokes aside, these dog collars are just too cute! While they may not be the most practical or durable ones, they will be a total fashion statement piece and the perfect accessory if you ever want to do a photo-shooting with your dog, for example.
However, another great way ti wear them is while bringing your dog along with you during this summer wedding season! If the wedding ceremony that you are attending is pet friendly, why not treat your dog to a fancy outfit too. But as it is hot, a cute dog collar will do the trick. And is there anything more romantic than a pearl or flower dog collar for a beautiful wedding ceremony? Just imagine how cute the pictures will be.
However, it can be a bit tricky to find a good quality but still affordable pearl dog collar. In this article we will share our favorites finds from all over the Internet. No matter if you want to simply order it from Amazon, or support a small business — we've got you covered.
If you would, however, prefer a flower dog collar for and upcoming event that you will attend with your dog, check out our DIY here.
Pearl dog collar — Where to buy?
There are different websites on which you could buy a pearl dog collar. The most popular definitely being Amazon, as it is the largest online distributor worldwide.
However, you can also find these dog collars on small web-shops on Etsy or other websites where small businesses can sell their handmade products.
Here are some of your favorite finds when it comes to pearl dog collars:
Olive & Pearl Dog Collars
Now these are a bit on the pricier side, but hear me out — They are absolutely stunning! And you have a bunch to choose from.
Olive & Pearl is a small and privately owned business that crafts the dog collars by hand.
They describe their dog collars as: "Luxury, Handmade Pearl Dog Collars, Leads & Jewelry that are as Strong as they are Beautiful."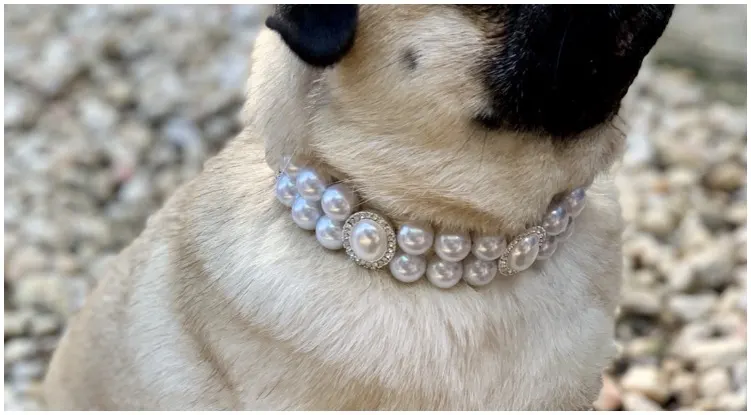 And their work really is beautiful. In fact, we can't even decide which one of their dog collars is our favorite! There are different colors and color combinations available and you can be sure that all of them are made from the best quality materials.
These are truly the prettiest dog collars we have ever laid or eyes on and by buying one of them you are also supporting a women-owned small business.
Make sure to check out their web-shop and let us know which one is your favorite.
KUDES Dog Cat Pearl Collars with Crystal Rhinestone Diamond Décor
I'm not sure why but I am convinced that Paris Hilton's dog would either wear exactly this dog collar, or something very similar to this.
Everything here screams boogie and private school spoiled pup. The pearls, fake diamonds and cream colored base of the collar.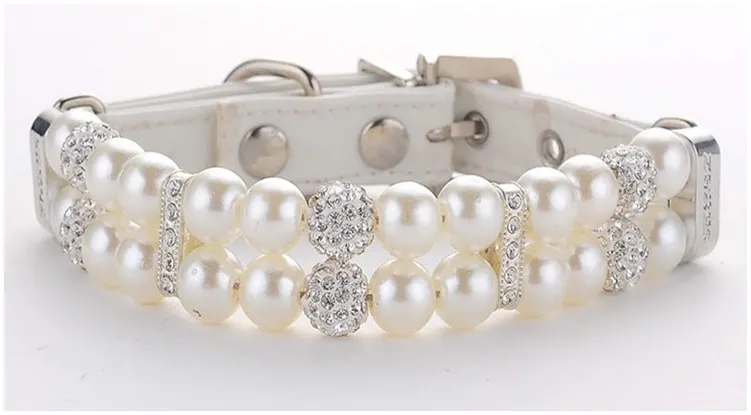 It's made of premium PU leather, and promises to be durable and soft.
The seller says it's suitable for any occasion: weddings, parties, holidays and everyday wear. Perfect gift for Mother's Day, Father's Day, Valentine's Day, Halloween, Thanksgiving Day and Christmas.
It's available in three sizes: S,M,L. The collar has additional holes, so it can be adjusted.
Doggie Diva Pearl Necklace For Dogs
While this isn't necessarily a dog collar, these pearl dog necklaces are definitely some of the most beautiful dog accessories we ever saw! If your pup is a calm one and doesn't always need a traditional dog collar, than these necklaces may be for you.
You can buy them on the Etsy website of Doggie Diva and you can even choose from a variety of different colors. Doggie Diva is a small company that sells different types of dog products. The dog pearl necklaces are one of their biggest hits.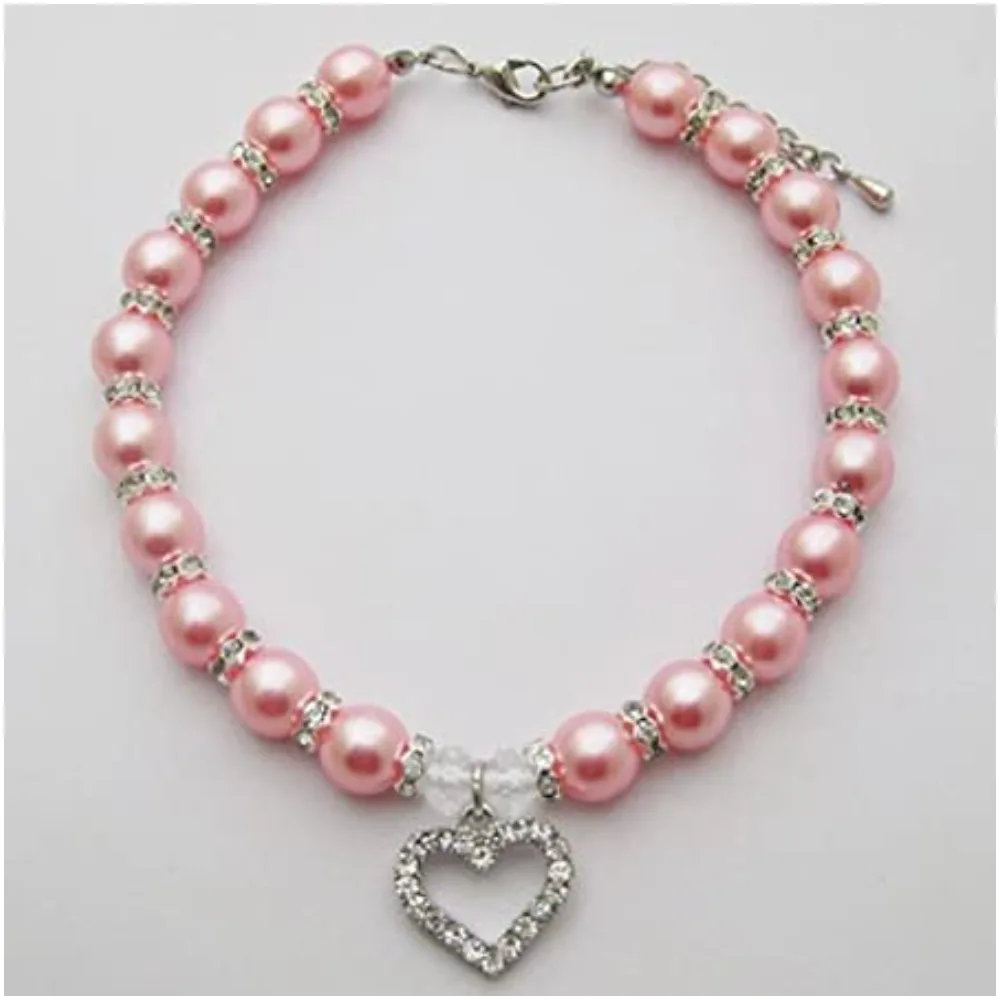 On their website they description says: "Nothing says elegance like pearls and glitter, especially in a Dog Necklace. You will love our selection of pearls and rhinestones with a sparkly heart charm on a necklace for pets made in sturdy metal with a claw clasp and 2" extender. Pups and kitties will be the classiest fur attendees for any special occasion in their sparkly pet jewelry."
We absolutely love every single one of them! Which one is your favorite?