Is this going to be the first Christmas with your dog? Then they definitely deserve a beautiful and special Christmas ornament that you can hang on the tree. Let's get into the holiday spirit together with your pets and have them enjoy the little things about Christmas the way that you do. They are a part of the family, after all. So if you are looking for your dog's first Christmas ornament, we are here to help.
There is a variety of them available on the Internet, and you can individualize them to your liking. You can add different shapes, fonts, and decorations. That way they will perfectly match your other Christmas decorations and you will have a good quality piece to use over the years.
If you are unsure where to get a dog's first Christmas ornament, we will share with you our recommendations. We are sure that there will be something for everyone, and that you will find whatever it is that you are looking for.
Dog's first Christmas ornament
There are different places to get a dog Christmas ornament. But, the easiest option by far is to simply order one online.
If you decide to do get your ornament online, you still have many options left. Etsy, Amazon, eBay, or other smaller retailers.
The most ethical thing to do here would be to support a small business and get the ornament from a smaller shop on Etsy.
Don't forget that we also have some other holiday-related content on our page. Here are some of those articles:
Now, without further ado, here are some of our favorite options from Etsy.
1. Puppies First Christmas Ornament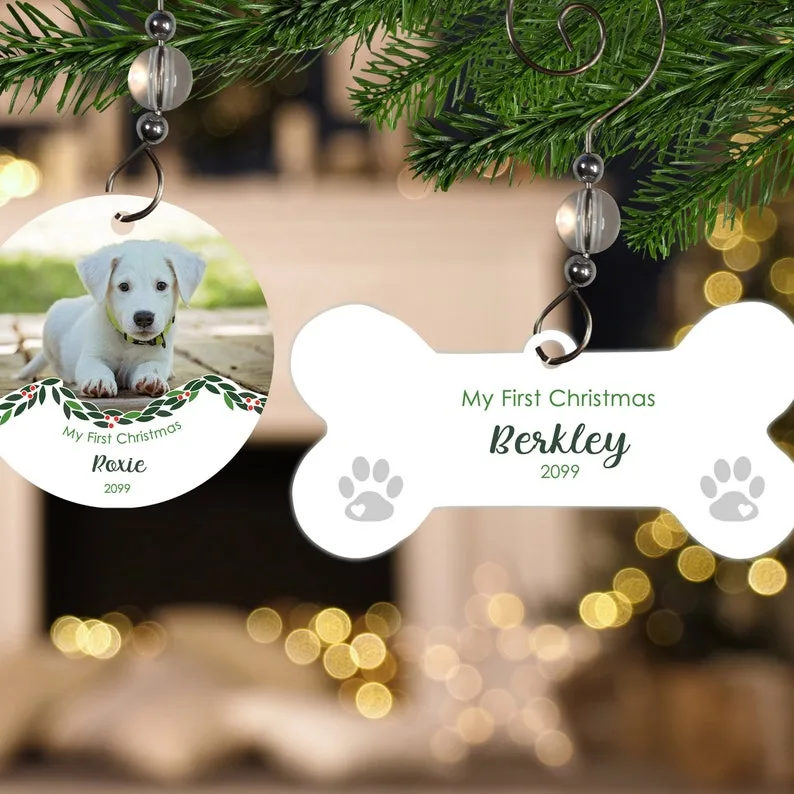 This Dog's first Christmas ornament option seems to be one of the most popular ones from Etsy. The reviews are promising and the price is a steal.
It stands at 19.99$ and will make the perfect gift for any new dog owner. Just imagine your new puppy's first Christmas ornament hanging on your tree! Cute, right?
You can choose between a photo and bone ornament and add the photo and name of your canine.
It can even be placed in a small gift box by the seller so that the ornament is ready to be put under somebody's Christmas tree.
Shipping usually takes 2-5 working days, depending on when and from where you ordered it.
The reviews are more than promising. So, one buyer said: "Second year we've purchased this ornament; one for each of our dogs! Loved the extra options this year. Seller is always super responsive and made sure to send us proof with the best picture option and why it was the best option. Thank you so much!"
2. MoonlitDreamsDesign dog Christmas ornament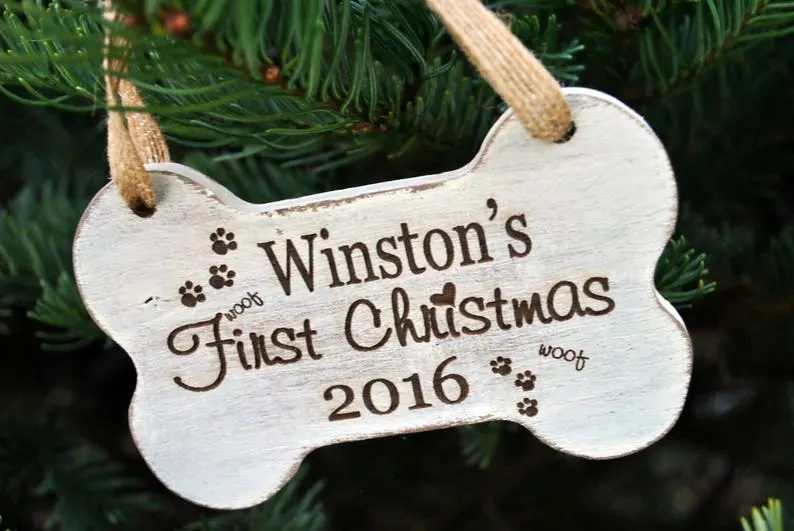 The dog Christmas ornament by the seller named MoonlitDreamsDesign seems to be a promising option as well. It's a different style from the previous one and will fit better if you are a fan of warmer and more old-fashioned designs.
It's made from wood and ribbon and is laser engraved. It would make an incredibly thoughtful gift for any dog owner and the rustic vibes give it some extra charm. Or you could get it for yourself as a reminder of your puppies first Christmas ornament.
Here's what the seller says: "Celebrate and remember your first Christmas with your new puppy! This ornament can be cherished on your tree for years to come and makes a great gift for new puppy parents. Your personalized ornament is hand-painted a vintage white then we lightly sand the edges to give it this adorable rustic look. After that, we laser engraved the lettering so that the dark brown of the burned walnut shows through."
The reviews are more than promising as well. One of them says: "Absolutely am over the moon with my purchase! I love love love this! Very high-quality memorial ornament. I am so touched by the beautiful creative job that was done for me. I definitely will recommend you to everyone! A million thanks from my heart!!!!"
So whichever one you may choose, you know that you are firstly supporting a small business, but additionally getting a beautiful gift for either someone you know or yourself.
Conclusion
We love Christmas, but we love even more cute dog-themed Christmas ornaments! Just imagine the joy of seeing your dog's first Christmas ornament hanging on your tree? It's something you'll always cherish and remember.
Besides that, it's a great way to welcome your new puppy into the family. Nothing says more "We love you" than a Christmas ornament especially made for them.
Of course, you don't have to buy one. You could even make one for your pooch! There are so many tutorials and ideas on how to make DIY Christmas ornaments. So, have fun and enjoy Christmas time!