Buying a personalized dog harness is the easiest thing ever. The internet is full of different harnesses that you can personalize. You can get them on Amazon, Etsy, even AliExpress. But wouldn't it be better to single-handedly make a dog harness for your beloved pooch?
Making a personalized harness for your can be a fun DIY project that you will definitely enjoy.
We're also pretty sure that every dog owner in the park will ask you where you got that cool harness, and it would be pretty impressive to say that you made it! Wouldn't it?
With that being said, let's dive right into all of the fun DIY personalized dog harness projects we have prepared for you!
Personalized dog harness
We have found a few and fun DIY ideas, and we must say that we're going to try and make some of these for our pooches too!
Let's dive right into!
1. Paracord Dog Harness
Paracord or parachute cord is basically a lightweight nylon kernmantle rope. It's very durable so it was originally used in the suspension lines of parachutes. However, paracord is now used as a general purpose utility cord.
Because it's so durable, it's perfect for making a dog harness! We're not going to lie, this harness does require some skill and it's definitely not the easiest to make.
However, we're sure that with the video we've found for you and the instructions from the video you'll manage to make it!
The tools you will need:
The materials you will need:
Paracord
Plastic clip
Metal D ring
2. Sew a dog harness
For the ones of you who are more crafty, we recommend sewing a personalized dog harness. If you own a sewing machine (and obviously know how to use it) then this DIY harness from SewMamaSew is worth checking out!
ALSO READ Dog Paddle Board: Training And Tips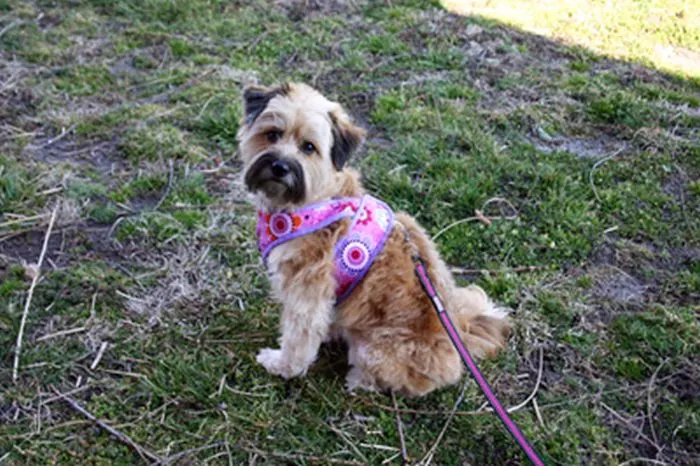 The tools you will need:
Scissors
Measuring tape
Sewing machine
The materials you will need:
1/3 – ½ yard cotton fabric
1/3 – ½ yard polar fleece
One package of bias binding
Two small D-rings
Velcro
2 yards 5/8" grosgrain ribbon
Thread
ALSO READ Dog bike seat: Everything to know before buying
The exact instructions on how to make this dog harness can be found on the SewMamaSew website.
3. Simply decorate a store bought dog harness
When we say DIY, we don't only mean making something from scratch. Why not just decorate a store bought dog harness and personalize it according to your dog's personality?
There are so many options and things you could do.
For example, you can use a hot glue gun and rhinestones to decorate your dog's old harness. You could write your dog's name in rhinestones or create little flowers. The possibilities are endless.
ALSO READ Dog zip line: What it is and where to get one
Besides this, you could also buy textile paint and paint something fun on your dog's harness.
The last suggestion we have for you is embroidery. Do a little embroidery if you know how to work with threads! For example, your dog's name on the collar will look good.
Conclusion
DIY projects are a super fun activity and a great hobby. They require you to research, think and work with your own two hands in order to create something.
No matter how you decide to personalize your dog's harness, or if you're making one from scratch, we're sure it will look great! Besides this, you will feel very proud of your accomplishment!