Siberian Huskies are one of the most popular dog breeds out there! They are active, witty, full of life. But they are also a handful. Anyone who ever owned a Husky knows that they are drama queens. They need all of the attention that they can get. So to some people this breed is a bit too much. But if a Husky isn't for you, the thing you could consider is a Husky mix dog.
Crossbreeds can sometimes be "the best of both worlds". But that's a pretty optimistic outlook on that. It can honestly go both ways. However, let's keep a positive mindset here. In this article we will go over some of the most popular Husky mix breeds that are just waiting for you to get to know them. So let's start, shall we? Here are the most popular Siberian Husky mixes.
White German Shepherd Husky Mix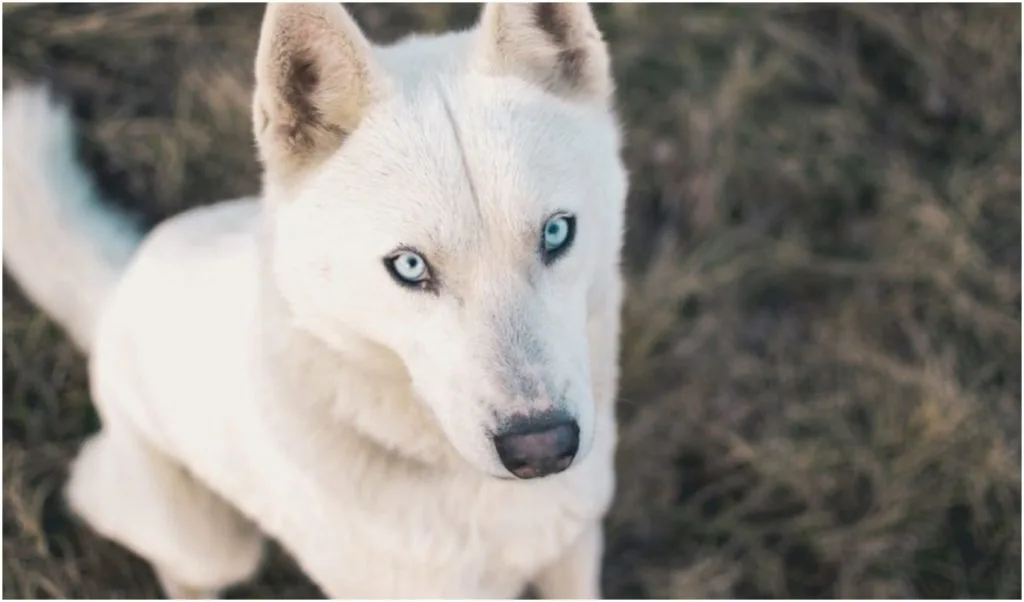 The White German Shepherd Husky Mix combines the greatest qualities of both breeds, as well as the most appealing and gorgeous hue. Just like the parent breeds, this breed is pretty popular too. This dog has a reputation for being both powerful and intelligent.
When your white German Shepherd reaches adulthood, it will protect you and your family from harm. White German Shepherd Husky Mix also provides you with a lifetime of affection, cuddles, and charming moments.
They get along nicely with youngsters and, if properly socialized from an early age, can coexist with other animals. When properly trained, the Gerberian Shepsky breed is extremely clever and learns quickly.
The majority of them weigh 45 to 88 pounds and stand 20 to 25 inches tall at the shoulder. Many, on the other hand, can be smaller or greater.
Some of the same issues that the German Shepherd and Siberian Husky suffer from also affect their crossbreed. While most are typically healthy, some may be prone to a few health problems, which is why proper care and regular veterinary visits are essential.
The following are some of the more common health issues that Shepskys face: Hip Dysplasia, eye problems, epilepsy.
White German Shepherd Husky Mixes cost between $400 and $1,500. Be wary of any puppy that appears to be too good to be true. It requires money to breed a healthy litter of puppies from healthy parents. It all adds up: health screenings, veterinarian care, immunizations, and flea and worming treatments.
Learn more about the White German Shepherd Husky mix.
Husky Malamute Crossbreed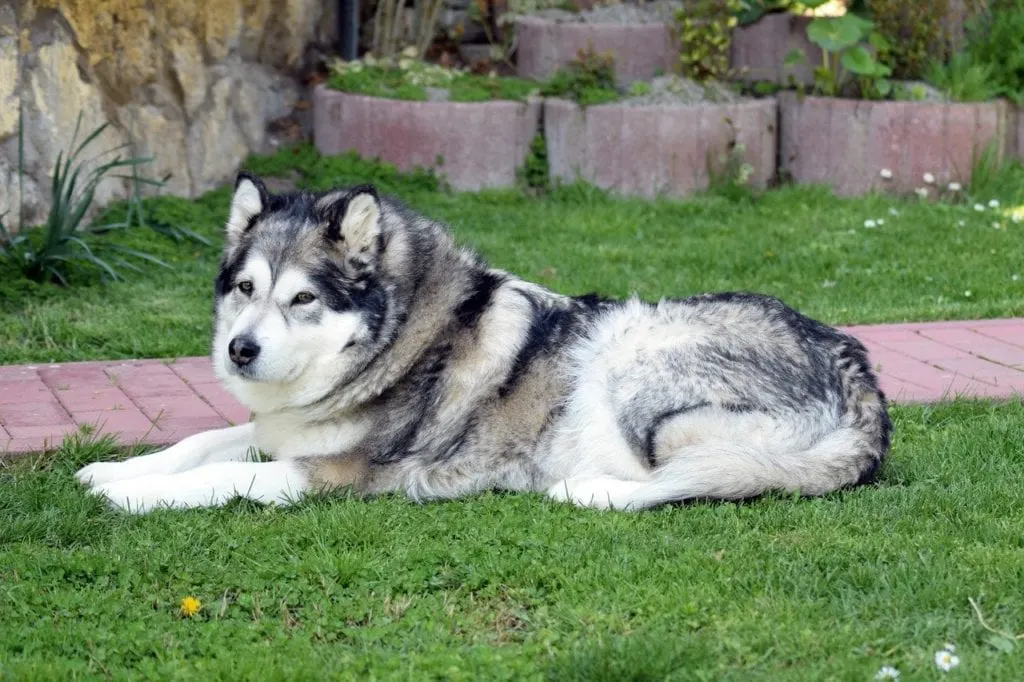 The Husky Malamute mix definitely isn't the newest or strangest hybrid dog out there. But there isn't too much research done on them. So to get a better idea about this crossbreed, we will have to take a look at their parent breeds.
Both are robust and large breeds. But the Malamute definitely being the larger one. Male Malamutes stand 25 inches tall and should weigh about 85 pounds. Females tend to stand 23 inches high and weigh about 75 pounds.
An average Husky male stands between 21 and 23.5 inches tall. The female averages 20 to 22 inches. The male weighs between 45 and 60 pounds and the female 35 to 45.
You can expect their cross to be somewhere between these measurements.
The Malamute is very obedient to the whole family. These dogs enjoy your company. They are true family dogs who love to receive your affection.
They are known for their gentle nature, loyalty and dedication. If he is trained from an early age, he will never refuse an order.
As far as the Husky is concerned, he's a nice, loving, friendly and sociable pet. But he can be aggressive towards strangers. Especially outside your home.
He's very intelligent, obedient and needs not only physical but also mental activity. That's why agility is the ideal sport for a husky.
There are also not many differences between Alaskan Malamute and Siberian Husky in the health sector: Both usually suffer from hip dysplasia and eye problems such as cataracts. So their mix is prone to these conditions as well.
Still want some more info? We have a full article on the Husky Malamute mix.
Border Collie Husky Mix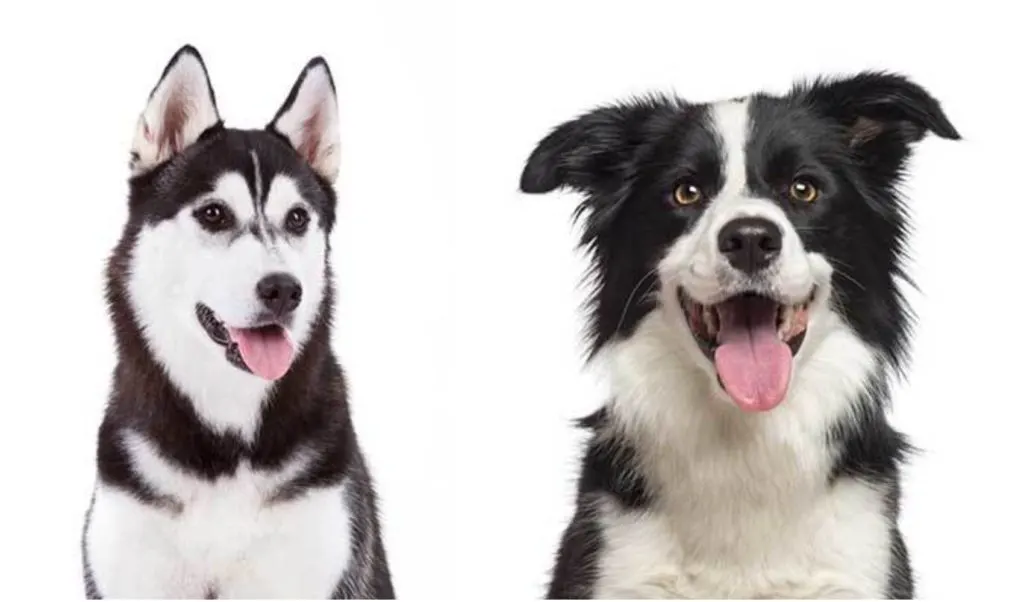 It's hard not to fall in love with this mixed breed dog, which combines the highly intelligent Border Collie with the dignified Siberian Husky.
You can assume that your Border Collie husky mix is about 20 inches long and weighs between 30 and 45 pounds. He has a slim, muscular physique, pretty facial features and a silky fur.
The faithful Border Collie husky mix can be an excellent family dog. If they are properly socialized and trained, they can be extremely good and very loving companions.
However, this breed can have a tendency to be antisocial, own its owner and be suspicious of strangers. Remember that this highly intelligent breed needs a lot of movement and space to burn energy.
They will not like to be left alone for a long time, so they are not ideal for busy families who are not at home for most of the day.
Unfortunately, border collies and huskies suffer from the same health conditions. Especially hip dysplasia, a condition in which the hip socket is unusually shaped and can cause lameness and painful arthritis.
Eye diseases are also a problem for both parent breeds. In particular, the husky is susceptible to a number of eye problems. The Border Collie has a life expectancy of 12 to 15 years and the husky from 12 to 14 years.
Do you still have some facts that you would like to know about the Border Collie Husky mix? Lucky for you, we have a whole article.
Husky Dalmatian Cross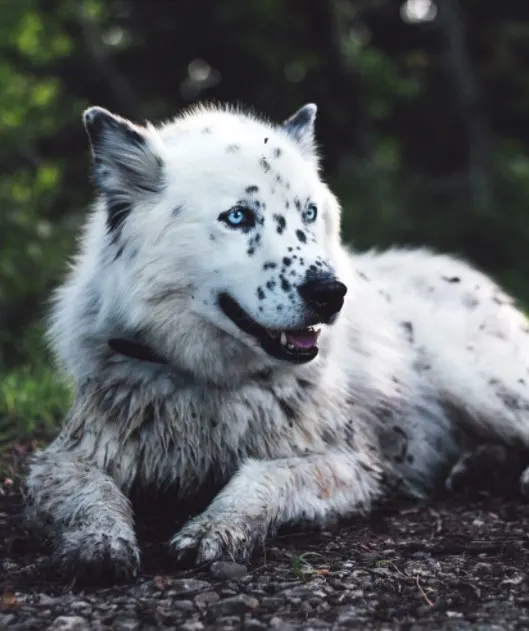 As the name suggests this is a mix between the Dalmatian and Siberian Husky. Both of these breeds are very unique and are popular in the whole world. So, there is no way that their mix could be any less special!
The Dalmatian Husky is a loving and smart dog! But, because the Husky is a pack animal, this mix needs a firm leader. Because of this trait, this cross can also be destructive when they are bored or don't get enough exercise. That's why you shouldn't leave them alone for too long.
The Husky Dalmatian mix doesn't bark, but they do howl, they get this from their Husky parent. Now, because of their size and activity level, you should know that this mix might not be a good apartment dog. He is better suited to a home with a large, fenced yard where they can go out when they want to.
The most common health problems of the Dalmatian Husky mix are: Cataracts, allergies, hip dysplasia, Progressive Retinal Atrophy. Besides this, there is also the possibility of your puppy being born deaf or blind. The reason for this is that the majority of their coat is usually white. Scientists have proven that there is a connection between a white coat in dogs and deafness and blindness.
Because this mix usually has a longer coat they also shed a lot. Especially when the seasons change when it gets warmer and they are losing their winter coat. So, it's good to brush them every day during this period.
There are still a few things that we couldn't fit in here. So make sure you read our full article on the Dalmatian Husky mix.
Pitbull Husky Mix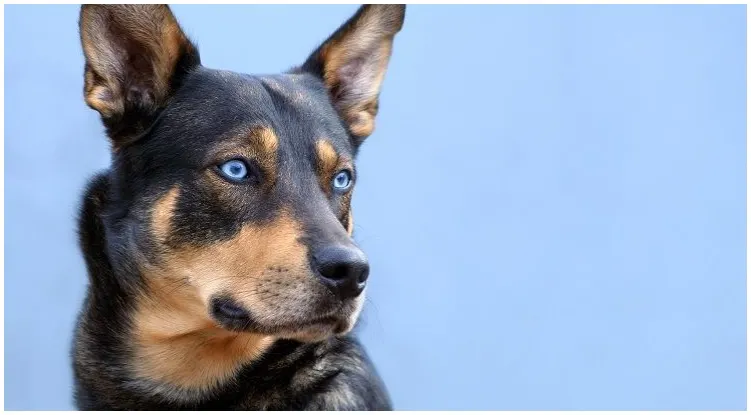 A Pitbull Husky Mix is the result of crossing a Pitbull with a Siberian (or Alaskan) husky. Therefore, this breed has no official recognition and is classified as a mixture.
It is a very slim and muscular breed, with strong legs for running. If they are properly trained and socialized, they are friendly and loving companions. But if they are neglected or poorly socialized, they can become destructive and unruly.
This demanding breed needs a lot of activity and attention to show its best behavior. If you want a quiet and cuddly lap dog, you have to look at other breeds.
Since the breed is a hybrid, there is no official standard. Some look more like pit bulls, others more like huskies. However, you can expect them to be tall and slim, have long legs and muscular forehand and backhand.
A full-blown husky pit bull mixture will be between 16-25 inches. You should expect men to weigh between 60 and 80 pounds and women between 40 and 60 pounds.
You can expect a faithful and protective companion with a very playful attitude. They can't stand staying indoors and need at least one hour of activity every day. These pups need a lot of space to run and play and don't mind living outside in the warmer months. They love to talk. They bark when they play, see something suspicious or want your attention.
This puppy is very demanding. Therefore if you are a first time dog owner — this isn't the dog for you. Before you accept one, you must be aware that it is a full-time commitment. So make sure to inform yourself beforehand.
Learn more about the Pitbull Husky mix.
Husky Labrador Cross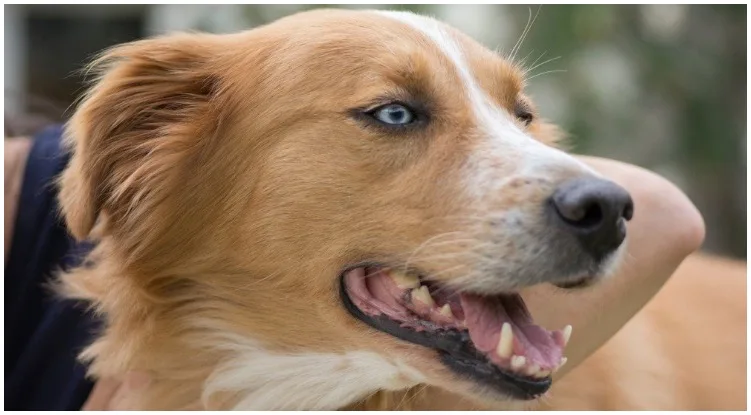 The Husky Labrador mix is a cross between two of America's most popular dog breeds; the Siberian Husky and the Labrador Retriever. This friendly and energetic mix has many names, including Labradoreky, Huskador or Siberian Retriever.
They are a medium-sized breed that weighs between 35 and 80 pounds and can grow up to 24 inches tall. They have a double coat, but the color depends on which parent breed is dominant.
The Labrador Husky mix is generally a healthy dog with some inherited health problems to pay attention to. Known for its intelligence and loyalty, this hybrid is becoming increasingly popular.
The Husky Labrador mix is undoubtedly a beautiful and commanding dog with medium-length, dense fur, upright ears and almond-shaped eyes that can be brown or even blue.
They usually weigh about 35 to 60 pounds, with the females standing on the smaller side. And they can be between 20 and 23.5 inches tall. The fur of the husky is available in many color combinations.
Your mixed pup could be one solid color like the Labrador. Most commonly the colors are tan, cream, black or brown. It could also be a two-tone puppy that resembles the husky side and combines a number of color options.
Since both the husky and the labrador are known for their endurance and energy, a future owner should prepare for an energetic dog.
This mix enjoys people and is very social. It is a human-related race that will do its best alongside its family members.
They will need a lot of toys, exercise and mental stimulation to stay happy. They can be fun for themselves or resort to destructive behavior if they are not sufficiently trained.
We have a whole article about the Husky Labrador hybrid dog.
Husky Wolf Mix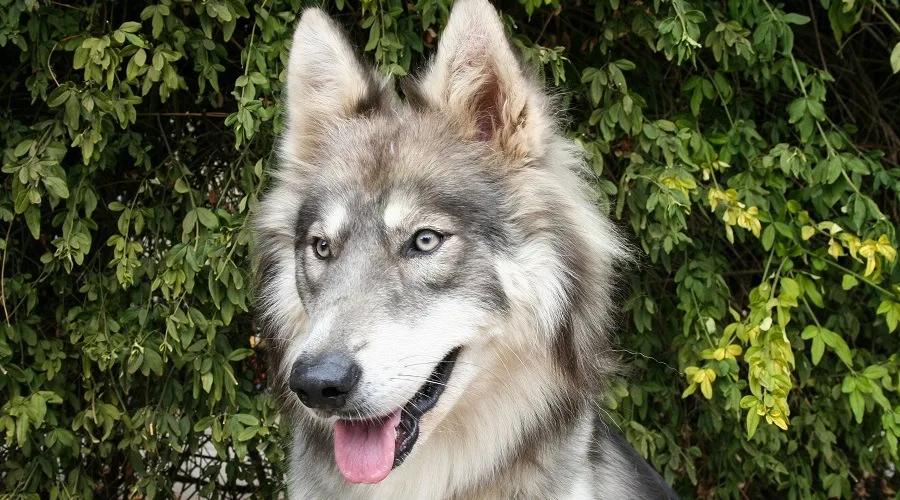 Just like the name suggests this is a hybrid between the Siberian Husky, or Alaskan Husky and a wolf! This hybrid is also known as wolfdog. Now, a wolfdog sounds exciting to have, but they are not for everyone.
Even though with mixes we don't usually know how the puppies will look like, with this hybrid it's a bit easier. The Siberian and Alaskan Huskies already look a bit like wolves, so it's not that difficult to predict what the Husky Wolf Mix might look like.
The Husky Wolf Mix will grow into a large dog. The male Husky Wolfdog weighs between 85 and 155 pounds, while the female Wolfdog weighs between 75 and 130 pounds. When it comes to their height, males are between 26 and 33 inches tall, and females are between 25 and 32 inches tall.
This hybrid will usually have the wolf's golden-brownish eyes. It can happen that they inherit the Husky's blue eyes, but it's very rare. The ears of this hybrid are triangular and erect, like the wolf's ears! Their teeth are much larger than the Husky's teeth and their tail is straight.
When you get a Husky Wolfdog or any wolfdog, don't be fooled and think you're getting a completely domesticated pet. They will never be fully domesticated. They will always be part wolf, so part wild animal! You can't make the natural instincts they inherit from the wolf disappear.
Do you have three to four hours a day to spare? Well, that's how much exercise the Husky Wolfdog needs! And if you can't provide them with that, then they'll turn destructive. This hybrid needs to be occupied, they need to be active and do something, only by doing that they will be happy.
Learn more about the Husky Wolf mix.
Husky Doberman Cross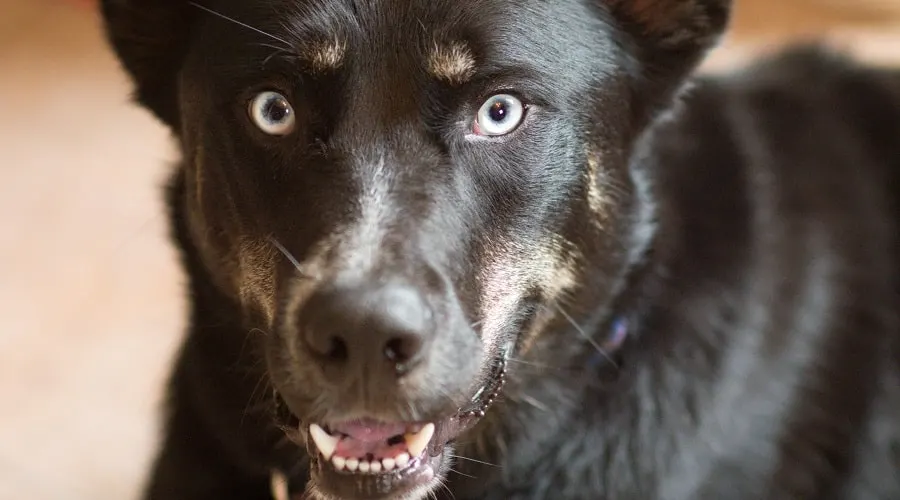 The Doberman Husky mix is a large dog weighing 40 to 90 pounds and being between 22 and 26 inches tall. Most puppies will look like an equal mix of both parents, they will be athletic and strong dogs.
Their eyes can be brown, like the Doberman's eyes, blue like the Siberian Husky's eyes, or one eye could be brown and the other blue. That condition is known as Heterochromia. Their ears are large and triangular, while their muzzle is long.
When it comes to their coat, they can have the same color as one of their parents. So, black and rust, or grey and white. But, it's important to say that the black and rust color is more common. They can also inherit either parent's markings, like the Husky's mask or the Doberman Pinscher's brows.
The Husky Doberman mix is a protective dog. They would do anything to protect their home and family. Besides this, they are also loving and loyal. They love their family more than anything and always want to be with them.
At first, these dogs might seem a bit distant towards strangers. But once you start socializing and training them, the sociable Husky in them will take over and they will want to be friends with everyone.
The Doberman Husky mix needs a lot of exercises. To be precise, they need between 60 minutes and 90 minutes of exercise every day. So, they are the perfect pet for an active family.
Crossbreeds are usually much healthier than their purebred parents. But, that doesn't mean they can't get sick at all. There are a few health problems: Hip and elbow dysplasia, eye problems, Von Wilebrand's disease.
The Husky Doberman hybrid dog is such an interesting cross that we have a whole article about them.
Boxer Husky Hybrid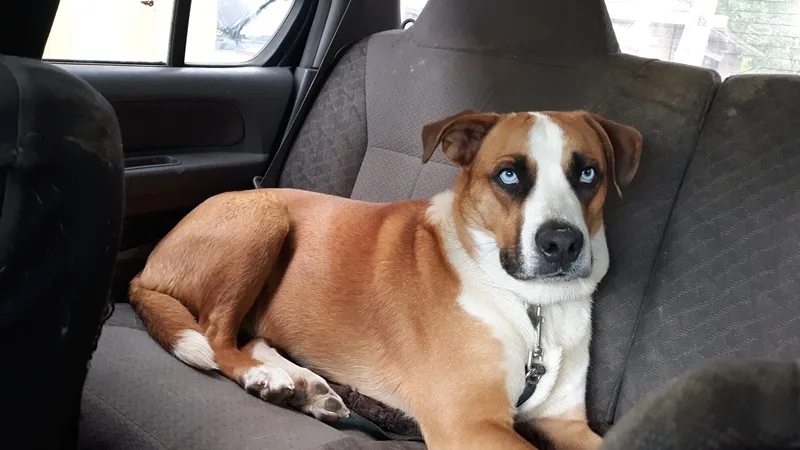 The Boxer Husky Mix is a crossbreed of two large, working dogs. Their mix is between 20 and 25 inches tall and weighs between 35 and 70 pounds. The coat of the Boxsky can be either short, as the coat of their Boxer parent. Or it can be a bit longer if they are more like their Husky parent.
When it comes to their coat color expect the unexpected. Their coat can be any of the following colors: fawn, tan, brindle, black, white and grey.
Both their parent breeds are shedders. Their Husky parent breed even has a double coat. Even though the coat of the Boxsky is not long, it's very dense.
So, these dogs are not low-maintenance and need regular brushing. Especially during the periods when they are blowing their coat. Which is usually in the spring. Invest in a good de-shedding brush and tools like combs, slicker brushes, and rubber curry brushes.
The Boxer Husky Mix inherited many traits of both parent breeds. They are loyal and brave dogs. So they will do anything to protect you. At the same time, these dogs are very loving and affectionate.
Both the Boxer and Siberian Husky are highly intelligent dogs. So, you can expect the same from their crossbreed. The Boxsky will amaze you with their intelligence.
These dogs are also very active and need a lot of exercises. After all both, the parent breeds are working dogs.
Now, in addition to being intelligent, these dogs are also highly independent. So, even though they are so smart, training them won't be easy. You will need a lot of patience and dedication when training them.
Learn more about the Boxer Husky mix.
Husky Samoyed Mix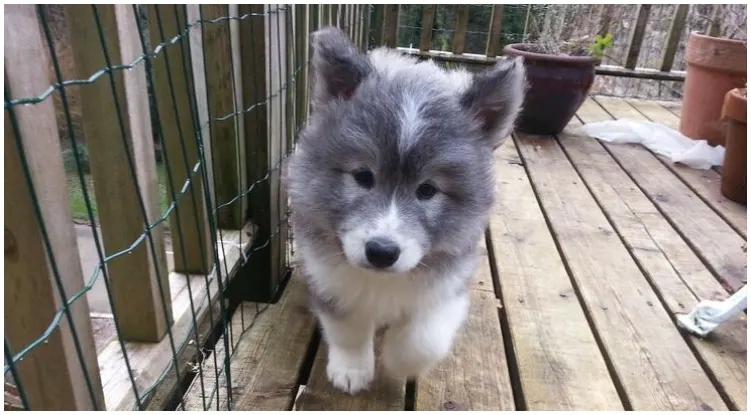 Both the Husky and the Samoyed dog originating from the northwestern region of Russia. They are resistant to cold and snowy conditions. However, there are still some key differences between these two. Which makes their crossbreed a perfect balance of it's two parent breeds.
The Samusky can be between 20 to 24 inches tall, and weight around 45 to 60 pounds. However, since the Samusky is a relatively new breed, the standard size is still unknown. It will depend on the genes they inherit. Husky's and Samoyed's are medium to large dogs. However, Samoyed's look much larger due to their big, fluffy coat.
The Samoyed Husky Mix could inherit either the strikingly beautiful blue eyes of his Husky parent, or the equally as pretty dark ones of a Samoyed. Either way, their eyes will be in a beautiful almond shape giving them that foxy appearance.
When it comes to the cost, the Samusky is surprisingly affordable. Especially considering how much other designer breeds cost. You will have to pay somewhere around $650. However, the cost may differ between $350 to $1200, depending on their parental genetics and the type of breeder you choose.
The Samusky is loyal, easy-going, affectionate and friendly. They will be adored by anyone who has the opportunity to meet a Samusky. However, they also need a lot of attention and care.
Just like Samoyeds and Huskies, the Samusky is a mostly healthy crossbreed. But it is possible for them to suffer from the same health conditions as their parents. These health problems include: hip dysplasia, diabetes, hyperthyroidism and possible eye defects if not taken care of regularly.
The Husky Samoyed crossbreed is truly a precious one. So why not learn more in our full article?
Corgi Husky Cross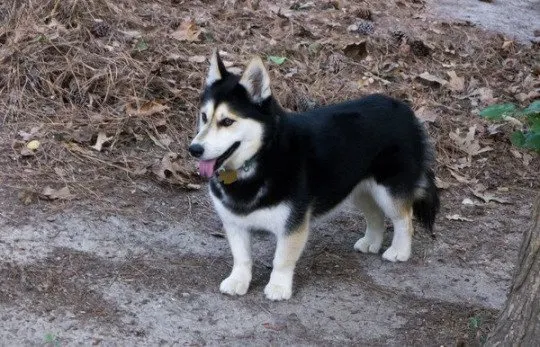 A Corgi Husky mix is a cross between the Siberian Husky and the Welsh Corgi. The mix is also called Horgi. The Horgi is a small dog. They are between 13 and 15 inches tall and weigh between 20 and 50 pounds.
Now, it isn't easy to say how they will look like. The Horgi is a designer dog. So we can't know for sure how they'll end up looking. They can look like a mix of both parent breeds. Or they can look more like one parent breed or the other.
For example, they can be red, sable, fawn, or tan, like their Corgi parent. Or they can be grey, black, or agouti like their Siberian Husky parent.
What is sure is that they will have a thick coat that is medium or long. The Corgi has a very thick coat. The Husky has a double coat. Both breeds shed a lot. So you can expect the Horgi to shed a lot too.
The cross of these two breeds is a loyal and smart dog. They are sweet and loving, but they don't make good guard dogs. They are just too nice!
But, they do love to bark. So you will have to work on that from early on. Also, work on socializing them. Let them meet as many people and animals as possible. It will help them grow into calm and collected dogs.
Because they are so loyal they hate being left alone. They might even end up chewing on your furniture or shoes if you leave them alone for too long.
Both the Husky and Corgi tend to put on weight easily. So you will have to be careful how much you feed your Horgi.
Learn more about the Corgi Husky crossbreed.
Rottweiler Husky Mix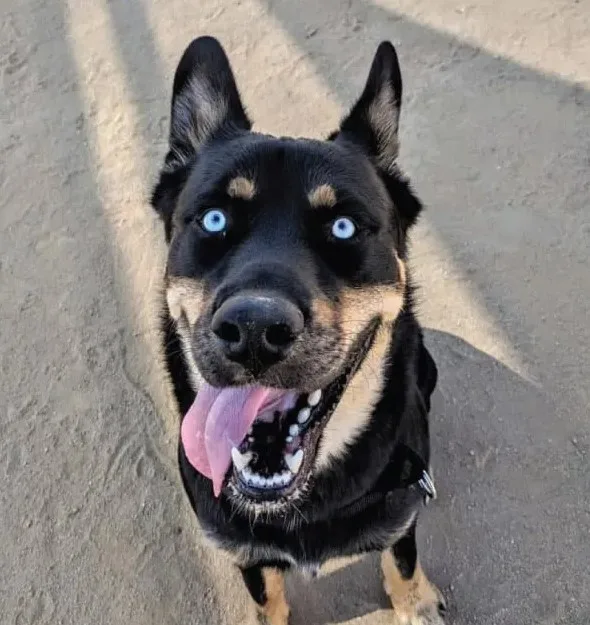 The Siberian Husky and the Rottweiler are two completely different dogs. Starting from their coat to nature. They don't have much in common. Yet, the mix between these two exists. This designer dog costs between 500 and 1500 dollars.
The Rottsky is a large dog. Just like the parent breeds are. The males are 22 to 26 inches tall and weigh between 75 and 95 pounds. The females are smaller. So, they are 20 to 24 inches tall and weigh between 55 to 80 pounds.
Their coat can be only one color or any combination of two or three colors. Their ears are triangular in shape. And can either be erect or folding down. Basically, this depends on which parent they look like more.
The Rottsky is generally a very active dog. This isn't surprising because both parents are working dogs according to the American Kennel Club ACK. They are also highly intelligent and have a high energy level. Because of this, they need a lot of exercises and mental stimulation.
Like with any other dog, early socialization is important. Every dog should be exposed to many people, animals, places, and situations while they are still young. This way they won't act out when they grow up.
The Rottweiler Husky mix can have a number of health problems during its life. For example: hip dysplasia, cataracts, osteosarcoma, hip dysplasia and bloating.
Still some unanswered questions? Learn more about the Rottweiler Husky mix.
Golden Retriever Husky Mix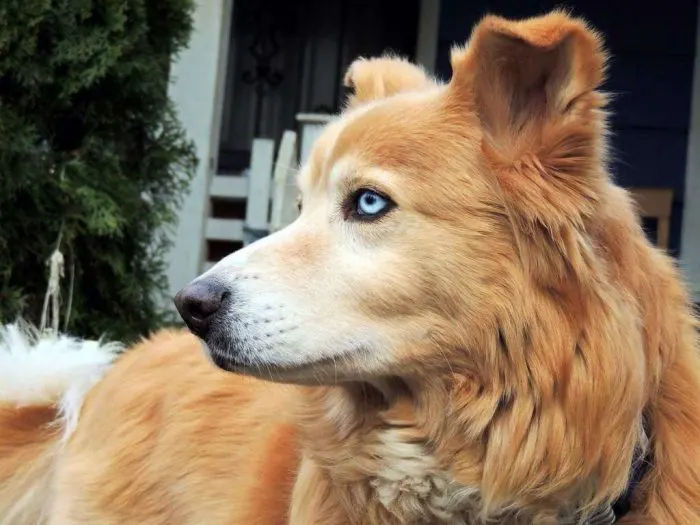 The Golden Husky is a cross of Golden Retriever and Siberian Husky. They are unusual, but their rarity and specific look makes them one of the most expensive designer breeds out there.
The Goberian is a beautiful dog (can't lie about that!). One look at them and you will fall in love. They definitely got some of the best characteristics of both breeds.
These dogs have a dark black nose and a large snout. Their ears can be pointy and stand up or floppy and downturned. The Goberian can have blue eyes just like his Husky parents, or brown eyes just like the Golden Retriever.
The same goes for their coat. You never know what you'll get. On one hand, the Goberian can have either a cream coat like the Golden Retriever. On the other hand, they can also have a black and white coat.
It is right that they are great dogs for families, but you need to have knowledge about dog training. The reason why you need to know how to train your sog is that they are very active. But, they are very intelligent so this makes everything a little bit easier.
When we are talking about grooming, the Golden Husky has a double coat, so they shed continually. Be prepared to have fur all over your house and clothing because they have a lot of hair.
They can live up to 13-14 years, which is a great life period for a big dog like them. Their health is generall good, but they can have some problems like hip dysplasia. This problem is common for both breeds so you need to be ready for it.
Find out more about the fascinating Golden Husky.
Husky Pug Crossbreed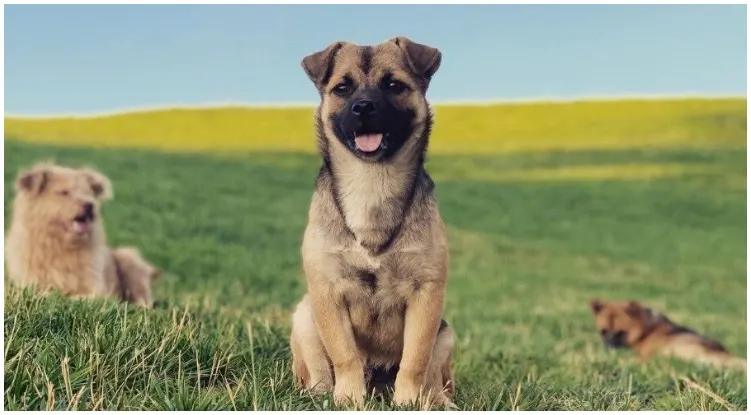 Like most crossbreeds, Husky-Pug mixes can have an unpredictable yet endearing appearance. These dogs tend to have the stocky, muscular body of a Pug with the Husky's long muzzle, and it's the most common one. Some Hug mixes have the facial markings of their Husky parents, while others bear the Pug's trademark facial folds.
Even full-grown, Pug-Husky hybrids are usually small to medium dogs. As mentioned above they may reach up to 23.5 inches (55 cm) in height. Their weigh can be anywhere from 14 to 36 pounds (6.3 to 16.3 kilograms).
A Husky Pug mix breed may also have the Pug's short, fine coat or the long, thick coat of the Siberian Husky. As we previously said, they can have unpredictable appearances. Common coat colors include black, gray, red, silver, and white.
Throughout history, pugs are known as companion dogs to Chinese ruling families and Tibetan monks. You can count on Pugsky puppies to be highly affectionate, loyal, and eager to please.
On the other hand, Huskies are known for their outgoing nature and low aggressive tendencies. Most Hug dogs are friendly even towards small children and other dogs which makes them a perfect dog for every family.
Due to their Pug parentage, Hug mix dogs are predisposed to brachycephalic airway obstruction syndrome (BAOS). This condition causes breathing difficulties and chronic discomfort in Siberian Husky and Pug mix dogs that have short noses.
Pug Husky mixed dogs can also get dermatitis in their facial skin folds and around their short, twisted tails – if not cleaned regularly. Dermatitis causes skin irritation and hair loss and may progress into infections.
This crossbreed os definitely worth knowing more about. That's why we have a whole article about the Husky Pug mix dog.
Beagle Husky Mix
Almost all designer dogs were created in the '90s or the 2000s. So, the Beaski was too. The goal when creating this designer dog was to get a dog with a stronger work ethic, but that will also be a loyal companion.
The Husky parent is very intelligent and friendly. They always want to protect their humans. The Beagle parent is similar too. They are sporting dogs and love spending time with their family.
They have a lot of energy, so they need a lot of exercise too. Be ready for long walks, runs, and games of fetch. These dogs are definitely not couch potatoes.
Both the Husky and Beagle are a bit stubborn. So it might be difficult to train the Beaski. It will likely take some time and patience.
Positive reinforcement is the only way to go. Don't yell at them and don't punish them if they don't learn a trick immediately.
The Beagle Husky mix is around 20 to 60 pounds heavy and is up to 24 inches tall.
When it comes to their look, there is no rule! The mix can look more like the Husky or the Beagle.
Designer dogs are usually much healthier than purebreds. But, that doesn't mean your Beagle Husky mix is immune. There are still certain health issues they are prone to. These include eye problems, hip dysplasia and hypothyroidism.
The Beagle Husky mix is a great dog. Loving, kind, and hard-working. But make sure you buy your Beaski from a reputable breeder. You might pay more money, up to $1000. But in the long run, it's worth it.
In case you need some more info, we have a full article just on the Husky Beagle mix.
Hopefully you enjoyed our article. We didn't mention all of them (like the Huskita, Husky Jack, or Great Pyrenees) but that doesn't mean that we like them any less! We just couldn't fit in every single one of them.