There is no Christmas without a Christmas tree, colorful decorations, sparkling lights. But what if you have a playful dog who messes up the tree every year? Well, you can still have a Christmas tree but, you just need to take some precautions, like getting a Christmas tree fence for dogs.
For dog owners, Christmas isn't only about getting gifts and having fun. Christmas brings a lot of responsibility too. As dog owners, we must take special precautions to make sure our fur baby is safe during the holidays.
And we'll tell you exactly how to do that!
While you're here read our other Christmas related content:
Christmas tree fence for dogs and other ways to keep pups safe
The first step in ensuring you have a safe Christmas with your pooch is getting a Christmas tree fence for dogs. A Christmas tree gate functions a lot like a regular pet gate, but it should be flexible enough to fit around your tree. But, you should also find a gate that will look good enough not to ruin the Christmas spirit.
Our suggestion is the Christmas Tree Wooden Fence. It has the design of a traditional fence while it also serves as a Christmas tree pet barrier. You can buy these charming picket fence panels in packages of 4, 6, or 8 to help you achieve the right length for your tree and other Christmas accessories. The best part is that this Christmas tree fence for dogs isn't expensive at all. You can get it on Amazon starting at 50 dollars.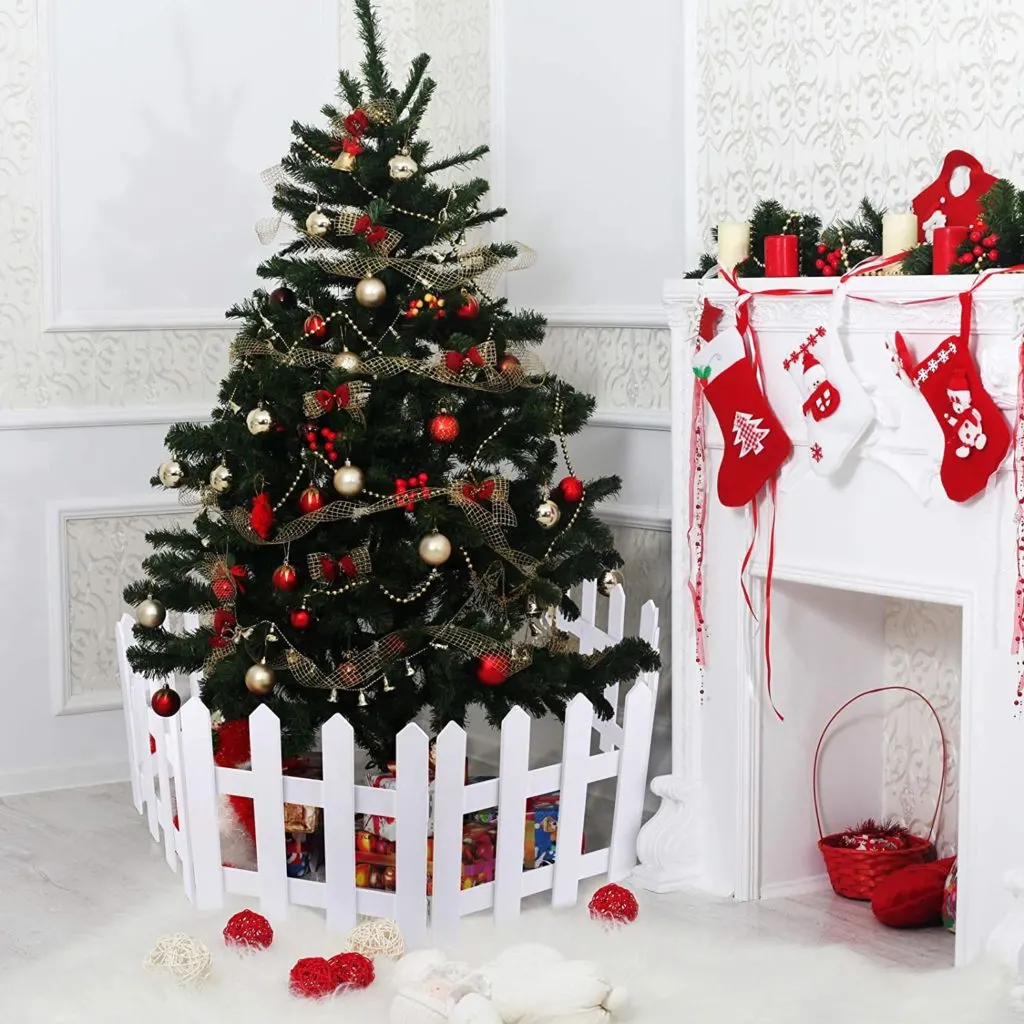 Of course there are many other ways to protect your dog and tree during Christmas.
Secure the tree the right way
The most important thing you should do when you get your tree is securing it. You should invest in a high-quality stand to secure the base of the tree. To prevent possible injury to curious pets, place the Christmas tree in a corner and securely anchor it to the ceiling or wall.
To anchor your tree, loop some fishing line around the trunk and tie it to an anchor, such as a molly bolt, in the wall behind it. You can also tie the line around the top of the tree and tie it to a screw in the ceiling. This will keep the tree from tipping over if a rambunctious dog gives it a bump.
Also, keep your tree bare for a few days. Having a bare tree in your house might seem like a silly idea, but it could help your dog get used to it. Just leave your tree up for a few days. This will help your dog get used to it so they'll be more likely to leave it alone once it's covered in lights and ornaments.
Be wary of electrical cords
The best tip I can give you is to leave the bottom branches of your tree out when putting lights on it. Not only can your dog get tangled in the wires, but if she's a chewer, there's a risk of electrical shock.
Also, forget candles! We know candles placed throughout your home, add that special flare. But they can also be dangerous for your pups. A wagging tail can for example knock them over, spill hot wax, or possibly start a fire. To avoid these issues, switch to flameless battery-operated candles instead.
Ornaments placement
When decorating the tree try putting breakable ornaments high and out of reach for your dog. Also, try to avoid very small decorations and ones made of food, like strings of popcorn, candy, or nuts. Think about the hooks you use for hanging tree ornaments as well because swallowing one of these sharp metal hooks can cause great harm to your dog.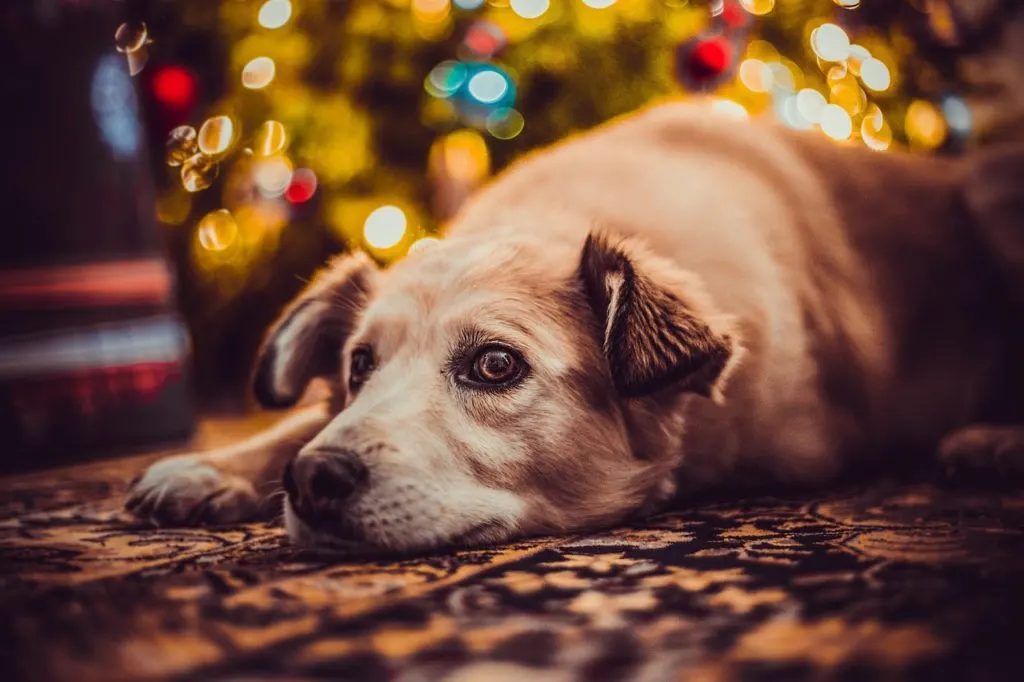 A nicely decorated Christmas tree is a must during the holidays. But, because they can also topple easily with four-legged friends running around, make sure to attach yours to the wall or ceiling using thin, barely visible guide wires,
And remember, taking a few minutes to create a dog-friendly space during the holidays is worth the time. If you do that you will be able to relax and enjoy without any worries.
No food on the tree
This one seems like a given, but you'd be surprised how many people decorate with edible ornaments. Popcorn garlands, cookie ornaments, and candy canes, oh my! Holiday treats make beautiful decorations, but they're a no-no for dogs. Leave the popcorn for eating, and try a dog-friendly paper garland on the tree instead.
We also want to remind you that long tablecloths or runners can accidentally get yanked. This can cause dishes, tableware, and hot food to come tumbling down and hurt or scare your dog.