Christmas is just around the corner, and it's not only us humans who are looking forward to it! Our four-legged friends are also excited about the Christmas season and more importantly, Christmas gifts under the tree! Our dogs belong to the closest circle of the family, so obviously we want to gift them something special. But, don't worry, whether you get them a new dog bed or a toy, or maybe a Dog Christmas hat – your dog will be grateful for each of your Christmas gifts.
Dogs give us their love and loyalty every day, so if you want to make them happy too, but don't know what to gift them, we have some ideas for you! We made a list of the most beautiful ideas for a perfect Christmas present for your dog.
While you're here read our other Christmas related content:
Dog Christmas hat or something else – Gift idea for your pooch
We all know it: Finding a good Christmas present is often not easy. There are so many options and gifts that we can easily get overwhelmed! With dogs, it's a bit easier, they'll be happy with anything. A new treat? Amazing! A fun dog Christmas hat? Why not! A new squeaky toy? Can't get better than that!
But, even with dogs, it can get a bit challenging. Especially if you're getting something for a friend's dog.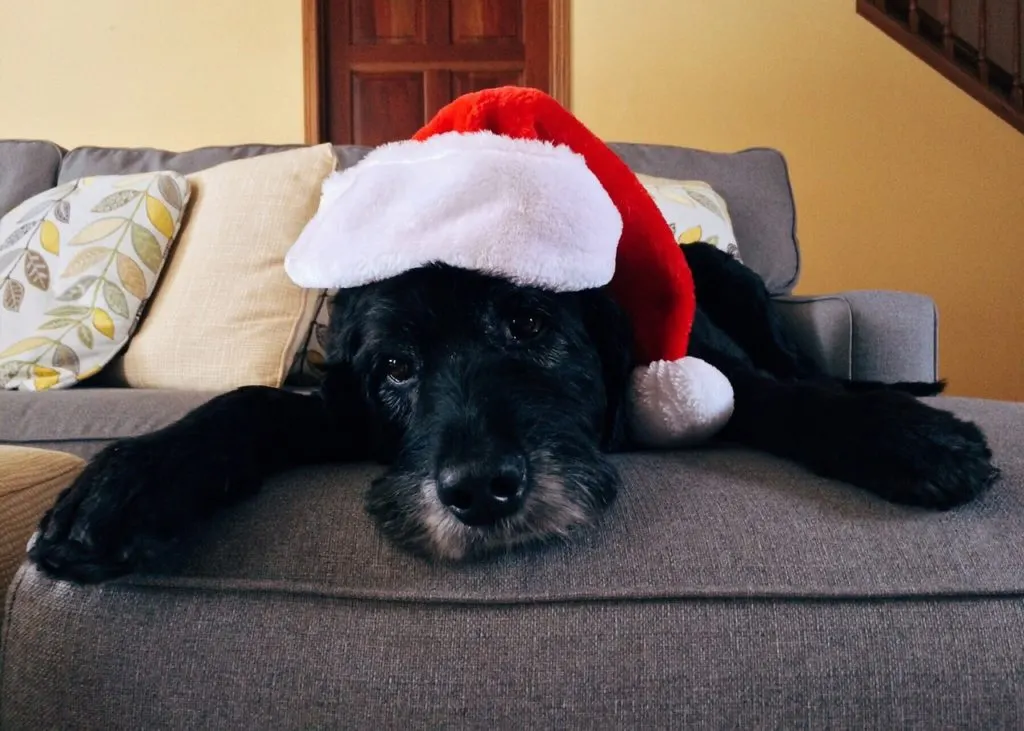 Now, if you're wondering why you should even gift your pooch something. Well, we have the answer.
We see our dogs as a part of the family, but why get them something for Christmas. We buy them gifts and treats all year round, right? And besides that, they don't even understand what Christmas is. But, just remember the saying "giving is fun". It just feels good to give something to a dog. Mostly because we don't expect any gifts in return – we just enjoy the fact that our dogs are doing well and are happy about a new toy or treat.
To make it easier for you we made a list of the top four gift ideas for dogs! And we're sure you'll find something for your pooch!
1. A drinking fountain for your dog
Drinking bowls are lame! Get your dog a drinking fountain! It is the perfect gift idea for Christmas. Why? Firstly, it makes drinking water interesting and the splashing encourages drinking. Secondly, most drinking fountains filter the water.
Fountains can save a dog owner time and effort refilling or cleaning a bowl regularly, especially if the dog in question regularly dirties water bowls with slobber or dirt. There are drinking fountains for large and small dog breeds, with different capacities and in different price ranges.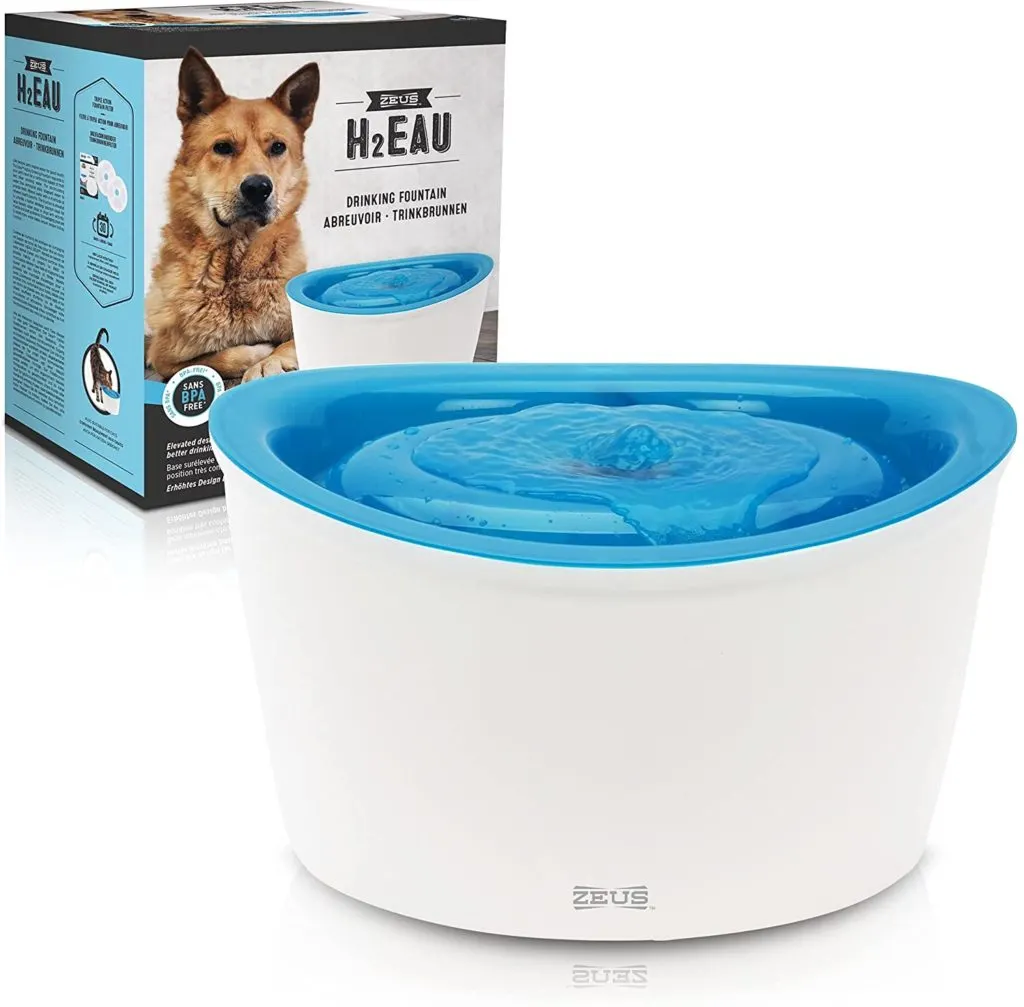 Our suggestion is the ZEUS Fresh & Clear Drinking Fountain. It is perfect for households with multiple animals (or just a very big dog), the ZEUS is the best high-capacity pet water fountain we found. With a max capacity of 200 ounces (and a minimum of 24 ounces), the ZEUS is easy to clean and quiet—though fiddly to assemble and difficult to find replacement parts for.
Other advantages are:
Provides a continuous supply of fresh and clean drinking water
Large surface area adds oxygen for fresher, tastier water
Multi-stage filtration absorbs water impurities
2. A new comfortable bed
Generally speaking, most adult dogs tend to sleep between 8 and 14 hours a day, on average 10.8 hours. Even though it seems a lot, this is a completely normal amount of sleep for adult dogs.
For puppies this is different. Just like human babies, puppies need much more sleep than adult dogs. Older puppies, around 16 weeks, tend to sleep up to 14 hours a day. However, younger puppies might need 18 to 20 hours of sleep a day!
Just like for us humans, the sleep phases are the energy source for your dog. Through sleep, they can recharge their batteries, and it helps them process what they have experienced.
It is all the more important that they have a safe environment in which they can relax. So how about a cave bed? The roof over the head gives some dogs security and allows them to peacefully sleep for hours.
We have great articles on dog beds and which to choose for your pooch:
Kirkland Dog Bed: The Ultimate Choice
Dog Beds Amazon Finds For Every Breed
3. A ball throwing machine
It's an absolute classic! Every dog will love having a ball throwing machine, especially larger breeds. Ball throwing machines for dogs can be very handy. This pastime can be a great way to keep your dog happy, especially if your dog is alone during your day-to-day work.
Our absolute favorite is the PetSafe Automatic Ball Launcher. Now, it is at the Mid-range price point, some would say it's expensive, but it's worth it!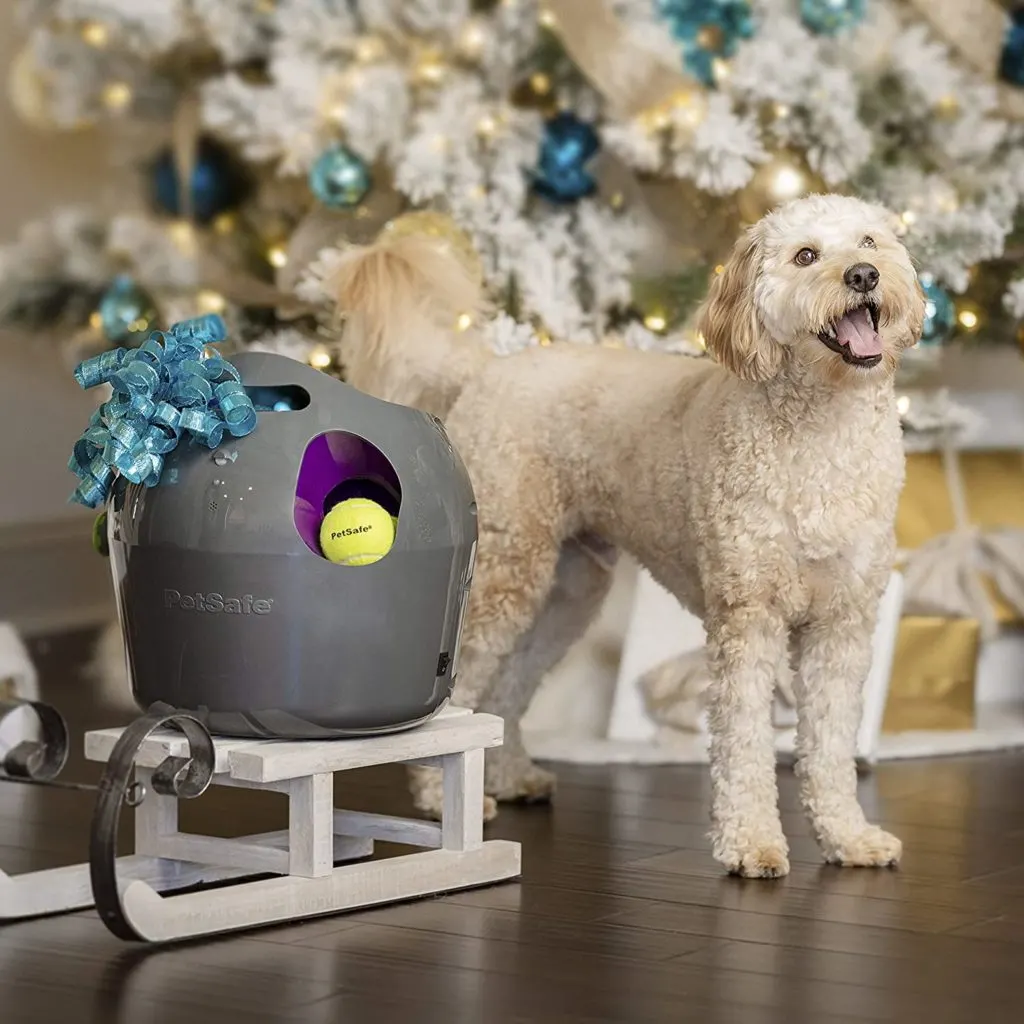 The PetSafe Automatic Ball Launcher is marketed as the ultimate playtime companion for your dog. Weighing approximately 4kg, the Launcher fires out tennis balls (three loaded at a time) for your dog to fetch, and can then return to drop back in the launcher and start again. The distance and height of the launch can be adjusted using dials on the side of the device, which can be charged at the mains or loaded with six D Cell batteries (not included) for outdoor use.
The device has nine adjustable distance settings, ranging from 2.5 to 9 meters, and its multiple power options (the included power cord or the batteries) allows for fun playtimes both inside and outdoors.
Other advantages of it:
Adjustable height and distance settings
Mid-range price point
Compatible with standard tennis balls
Loud alert sound
Timeout system can slow down play
4. A dog Christmas hat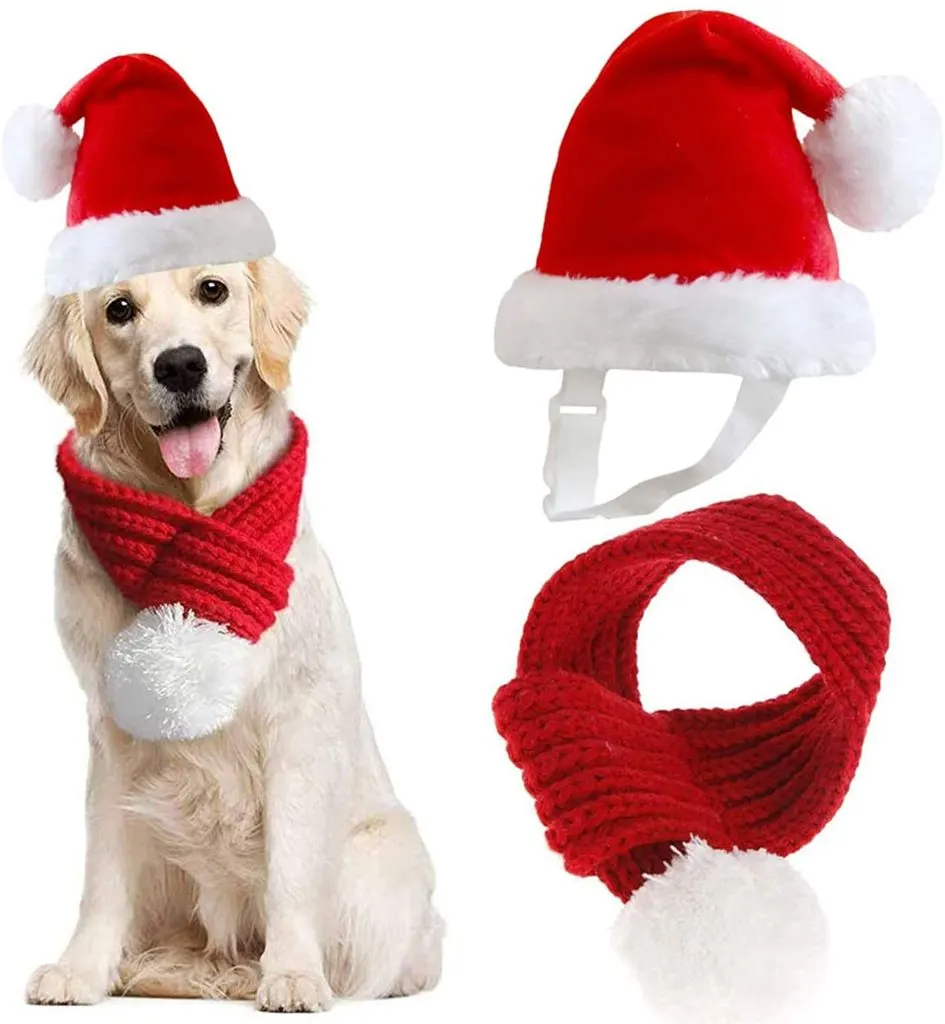 What would be Christmas without a dog wearing a Christmas hat? We love dressing our dogs in fun costumes, now while we shouldn't do that too often, once in a while is okay. Of course, if your dog lets you. Never force your pooch to do anything.
A dog Christmas hat is a great idea to have your dog in some sort of costume, while it's still comfortable enough for them. Our absolute favorite is the Inscape Data Christmas Dog Santa Hat with Scarf! It's an adorable set of two pieces, a hat and scarf for your dog.
The hat is stuffed with cotton so that it can stay up on your pet's head well. It also has an adjustable elastic strap which make it easy to put the hat on and off easily. The red and white color of the scarf match the Christmas theme and will make your puppy look fashionable and cute.
The unique scarf design is easy to slip on and your furry friend can't take it off on his own. Red stripes with white pom poms perfectly match the theme of winter and Christmas. And the best part is that the fully knitted scarf will keep your pet warm in winter!